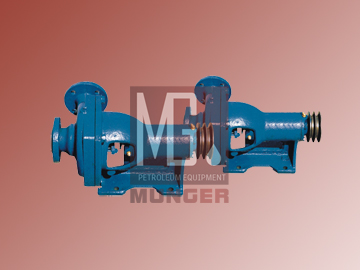 Spray pump
Specification of mud spray pump
1.The spray pump is a kind of single stage single suction horizontal volute pump.
2.It is used to cool and wash the liner and the pistion of the drilling pumps,so as to prolong their service lives,
3.transfer water that temperature is less than 80 degree Celsius or sewage water contains a little sand.
4.It can be belt driven when used on drilling pump or be driven by motor for other use.
Type

Capacity

Head

(m)

Efficiency

(%)

Speed

(r/min)

Shaft power

(kw)

Motor power

(kw)

32SB180J-2.2

7.5

10

48

1420/1750

0.55

2.2

32SB180-J4

9

15

48

1750

0.93

4

32SB180-J3

15

10

53

1420/1750

0.78

3

32PL

7.5

10

48

1420

0.55

/

32PL(B)

7.5

10

48

1420

0.55