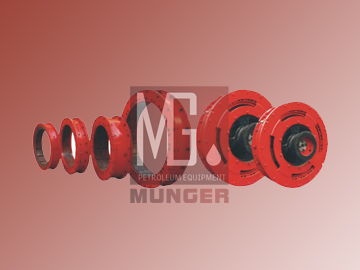 Clutch
Ordinary type pneumatic & airbag assembly of clutch for drilling rig.
It is composed of outside rubber, inside rubber and cord fabric layer.
As brakes of Pressure blower and drilling rig.
Its rubber raw materials are elastic, tear and wear resistant.
With excellent performance. Its working time is long, security and stability.
The main parameters of pneumatic clutches
type

LT300/100

LT500/125T

LT600/125T

LT700/135CBC

LT800/135

LT700/200

Rotate speed

Extreme

2332-2667

1642-1877

1352-1547

1198-1450

1099-1328

1009-1155

rated

1348-1542

949-1085

781-894

687-881

635-768

583-668

N.m

Extreme

3080-4030

10455-13670

14810-19360

22350-32660

28850-42160

75050-98150

rated

2025-2686

6790-9114

9875-12908

14900-21775

19230-28080

50020-65440

weightKg

11

44

53

85

114

67

Work pressure Mpa

0.6—0.9

0.6—0.9

0.6—0.9

0.7—1.0

0.7—1.0

0.6—0.9

Pneumatic volumetricL

1.3

5.5

5.5

2—4

3.75

17

Friction wheel diameter

∮300

∮500

∮600

∮700

∮800

∮700

connecting size

dia

∮450

∮720

∮820

∮900

∮1015

∮1400

width

115

154

154

176

176

240

Number and diameter of screw holes

12-∮13H13

12-∮17H13

16-∮17H13

20-∮17H13

24-∮17H13

12+4-∮27+25H4

bolt hole diameter

∮430

∮690

∮790

∮870

∮975

∮1350

Inlet pipe thread

M20×1.5

M20×1.5

M20×1.5

M20×1.5

M20×1.5

M33×1.5