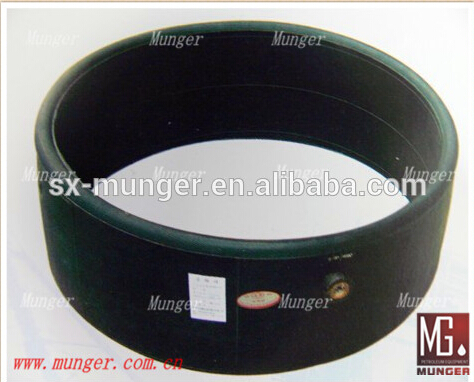 Ventilation type circular air bag
Air bag for clutch is divided into pneumatic type and ventilation type according to the structure.
It is composed of outside rubber, inside rubber and cord fabric layer.
As brakes of Pressure blower and drilling rig.
Its working air pressure is 0.75 Mpa.
Its rubber raw materials are elastic, tear and wear resistant.
With excellent performance.Its working time is long, security and stability.
Nominal size

Product Size

Gas nozzle

number

Thread

pecification

Height of air

nozzle

526

Φ560×Φ504×158

4

ZG3/8"

8

500×200

Φ678×Φ626×196

2

G1/2"

25

VC500×200

Φ680×Φ620×196

2

M20×1.5

25

500×250

Φ675×Φ615×264

2

M20×1.5

23

600×250

Φ790×Φ738×246

4

G1/2"

25

VC700×250

Φ870×Φ810×240

2

M20×1.5

25

700×250

Φ908×Φ848×246

4

G1/2"

25

IA--236

Φ1130×Φ1066×164

4

ZG3/4"

12.5

LT965×305T(38")

Φ1146×Φ1098×315

4

NPT3/4"-14

18

LT1168×305T(46")

Φ1380×Φ1310×315

4

NPT3/4"-14

18

K-650

Φ870×Φ813×164

4

ZG1/2"

8

Φ1070×200

Φ1270×Φ1194×230

2

M33×1.5

27

Φ1170×250

Φ1372×Φ1308×264

2/4

M33×1.5

27

LB828

Φ1550×Φ1475c430

4

NPT1"

24.5

LT700/135DY

Φ870×Φ810×178

700/250DY

Φ916×Φ836×274