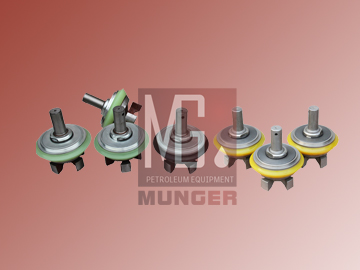 Valve
The valve assembly consists of the valve assembly and valve seat.Is the main parts in the drilling mud pump hydraulic end system, is one of the biggest one of wearing parts of drilling work usage.
The valve body, valve seat material for my company production of 20CrMnMo, drawing process in strict accordance with the requirements of processing, high degree of finish, the characteristics of the product has high strength,and high toughness.
The seal of valve body is made of polyurethane or synthetic rubber and has high wear resistance and long service life. It can be removed and replaced easily.
MUNGER has the ability to provide all sorts of valves and valve seats of triplex mud pumps.