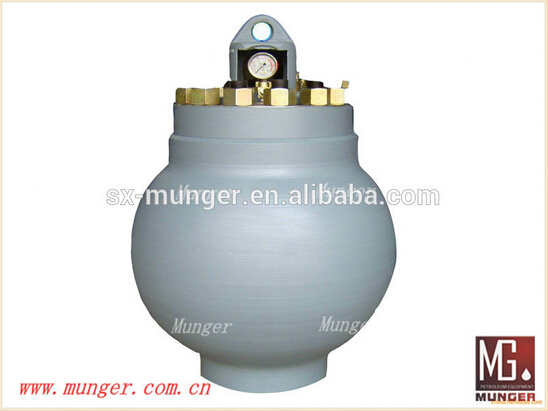 air bag assembly
1. Air bag assembly is a part of mud pump, used as pressure balance on mud pump.
2. Air bag with pressure, the max. pressure is 5000psi
3. Air bag assembly produced according to API standard
4. We can manufacture it used on almost all types of mud pumps or customize in accordance with your request.
Brand

Type

Emsco

F-500

F-650

F-800

F-1000

FA-1300

FB-1300

FA-1600

FB-1600

FC-1300

FC-1300

Gardener

Denver

PZ-7

PZ-8

PZ-9

PZ-10

PZ-11

National

7-P-50

8-P-80

9-P-100

10-P-130

12-P-160

Ideco

T-800

T-1000

T-1300

T-1600

Oilwell

A-350

A-560

A-650

A-850

A-1100

A-1400

A-1700

UNBT

950

950L

1180

1180L

HongHua&

Bomco&

Lanzhou

3NB-500

3NB-800

3NB-1000

3NB-1300

3NB-1600

3NB-2200

F-500

F-800

F-1000

F-1300

F-1600

F-2200